Chocolate Fountain Rental to Greater Cincinnati & Dayton, Ohio Area

the intoxicating scent of cocoa wafting in the air...imagine a cascading curtain of

liquid chocolate...imagine dipping a sweet,

strawberry into this flowing liquid.

Almost!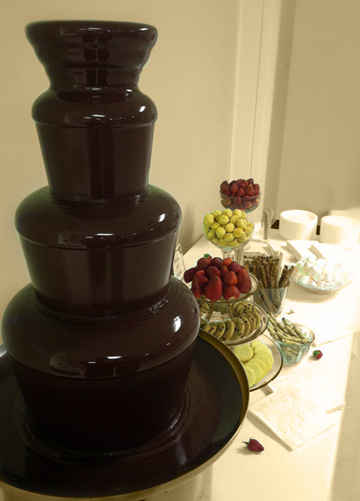 Whether you're hosting a wedding reception, graduation party, or other special event, let a Lady Belgium Chocolate Fountain be the centerpiece of your party! Your guests will LOVE you. They WILL remember your party.
Save $$$ on cake by treating your guests to a chocolate fountain! Fresh fruit, cookies, pastries & something salty like a pretzel...all dipped in chocolate? YUM!!
Yes, you can serve less cake and save more by renting a Lady Belgium chocolate fountain. You'll be happy, and your guests will be happy, too!
For complete information about chocolate fountain rental, see the Rentals/Packages and FAQ pages.
Lady Belgium Chocolate Fountains services the Greater Cincinnati & Dayton, Ohio area. Contact us today to make your chocolate fountain or candy buffet reservation!
Don't forget to sign up for our email newsletter to receive special offers, chocolate fun facts and recipes!
Cincinnati Chocolate Fountains, Cincinnati Chocolate Fountain, Chocolate Fountains in Cincinnati, Rent Chocolate Fountain Cincinnati, Cincinnati Chocolate Fountain Rentals
Dayton Chocolate Fountain, Dayton Chocolate Fountains, Dayton Fountains in Cincinnati, Chocolate Fountain Rent Dayton Chocolate Fountain Rentals
Website design and artwork © Natalie Blake, 2006-2015.
All rights reserved. No part of this website may be copied or reproduced.